You probably couldn't have failed to notice the huge increase in popularity of women's football over the last couple of years, but did you know that growing numbers of women are also taking up rugby? The sport is enjoying popularity among thousands of more girls and women than ever before. The recent successes of the England Women's Rugby team have inspired a new generation of girls to pick up a ball and have a go, but no matter what your age, it's never too late to take up a new sport.
Image Credit

Rugby for fitness
It's no secret that rugby – whether playing full games or practicing rugby drills – is an incredibly physically demanding experience. This makes it great for all-round fitness. Players get a thorough workout and get to have fun at the same time. Rugby and team sports are also excellent for anyone who wants to get fit but finds activities such as running or working out in a gym boring. With rugby, you're working out with a team of other people and striving to achieve a common goal – namely winning your next game.
The official England Rugby site contains a wealth of information for women wanting to get involved in the sport. Whether you've played before or are completely new to the game, it's possible to get involved at locations all over the country. Check out https://www.englandrugby.com/participation/playing/get-involved for information on the different types of rugby on offer, including sevens and 15-a-side contact rugby.
Sites such as https://www.sportplan.net/drills/rugby offer a wealth of resources for women – or anyone else – wanting to improve their rugby game. If there is no women's club or training session in your area but you're keen to get involved, why not try and set something up yourself?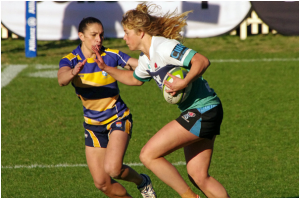 Rugby for mental health
It's long been known that exercise and staying active is one of the most important things we can do for our mental health and overall well-being. Rugby is a great way to achieve this as it not only provides a full-body workout, but it also involves working as part of a team and socializing with a diverse group of people. Many women who have taken up rugby talk about how the sport has increased their self-confidence and helped them make new friends.